Hair
Nutrafol Womens Balance
Menopausal women often struggle to maintain healthy hair growth. Partially, this problem with poor hair health can be due to a lifetime of bad habits catching up with you. It can also be caused by compromised nutrition due to your metabolism slowing down.
In short, the older you get, the longer the list is of potential underlying causes of hair loss. So, for menopausal women, it can be a huge boost to their hair health to have one product that tackles as many of these underlying causes as possible.
Nutrafol Womens Balance tries to do exactly that, using natural ingredients to help improve your hair quality. More than that, this hair supplement is one of the very few specifically made for menopausal women. Therefore, this Nutrafol core product is worth looking at for that reason alone.
What Is In Nutrafol Womens Balance
The Nutrafol Womens Balance has a pretty good list of ingredients that can help thinning hair start to grow again. Not all sites that sell this Nutrafol hair supplement list each natural ingredient out for you – or have a picture clear enough that you can read the label.
So, let's look over the label and everything on it. Nutrafol has divided the label into three sections, the first of which is the vitamins and a couple of minerals. The Vitamin A, Vitamin C, iodine, and zinc all are here in amounts over 100% but under 200% of your daily needed amount.
Other than those vitamins, the Vitamin D and selenium both have over 300% of the daily recommended dose. Finally, biotin is also in this hair supplement at 2,500 mcg.
In the label's next section, which is called the Synergen Complex Plus, there are several more ingredients. First, there is maca root powder, saw palmetto CO2 extract, marine collagen types 1 and 3, and ashwagandha root and leaf extract.
Besides those, Nutrafol Womens Balance also has a curcumin extract, which says it is a curcuminoid complex. Lastly, it has full spectrum palm extract and astaxanthin in this section.
The label's third, and final, section is called Nutrafol Blend, and it only has a few more ingredients. These start with L-Lysine, L-Methionine, and L-Cysteine. Then there are a few plants, namely horsetail stem and leaf extract, Japanese knotweed root extract, black pepper fruit extract, and capsicum fruit extract.
Though that sums up the main ingredients, there are the rice hulls and vegetable cellulose that go into the capsule. Nutrafol also has a note at the bottom that some of the marine collagen is from North Atlantic Cod. Some find that important to know.
The Added Benefits Of These Ingredients
While Nutrafol did a good job of picking ingredients that are good for hair loss, almost each natural ingredient also has some other well-known benefit that can help your body in another way. Some of these other benefits are extremely popular, like with Vitamin C being used for an immune boost.
So, to truly give a Nutrafol review on this hair supplement, let's look at some of the other benefits. To start, Vitamin A has anti-cancer and immune-boosting properties. This vitamin also gives eye health a boost as well.
Vitamin C is doubtless one of the most popular vitamins to take, especially when you get sick. However, C also can help with heart health and your blood pressure on top of that. Vitamin D actually helps somewhat with your immune system too, though it helps more with your bone and muscle health.
Next, biotin both helps with your hair thickness and hair growth, but also nail and skin health. Women getting older will doubtless find both of these properties to be even more beneficial than most. The same goes for the marine collagen in it.
Equally helpful are the wound healing properties of zinc, which also helps your immune system. The iodin takes this one step further and helps heal scarring. Even better, iodin is also probably the best supplement for your thyroid health.
Selenium has a fairly odd collection of benefits. Older women are especially likely to appreciate its potential for helping heart health and brain function.
The horsetail is another plant that has anti-inflammatory properties, as well as wound healing. Otherwise, horsetail extract is also a diuretic, helping with your urinary tract health. It also helps with your bones, nails, and hair.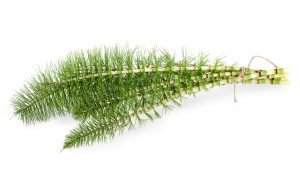 How Is It Different?
When looking at Nutrafol Womens Balance and Nutrafol Women, it can be hard to determine which one is the best. Of course, Nutrafol tells you that their Womens Balance product is for women around menopause.
But do you really need the Womens Balance, or is the Nutrafol Women supplement fine for you? To know that, both Nutrafol hair supplement options should be looked at side by side.
Compared to Nutrafol Women, Nutrafol Womens Balance has the same vitamins and most of the same ingredients. There are minor differences between these two hair loss supplements, though.
For starters, this supplement only has 2,500 mcg of biotin, while Nutrafol Women has 3,000 mcg. Also, Nutrafol Womens Balance has only 20 mg of zinc while the other has 25 mg. Out of the vitamin section, those are the only two differences at all.
Also different, there is maca root here and astaxanthin here, neither of which are in the other. Absent is the hyaluronic acid that Nutrafol Woman has, but this does not. The Nutrafol Womens Balance supplement also has less of both the marine collagens and the ashwagandha root.
In the Nutrafol Blend section of ingredients, which is the final section, this supplement also has slightly less L-Cysteine. Lastly, there is no solubilized keratin, which I was sad to see was not an ingredient in this Nutrafol option.
In short, Nutrafol has nine small changes between these two products, and that is all. Still, these two hair loss products have enough differences to be sold as two different supplements.
As for this one compared to Nutrafol Postpartum, there are even more differences to be found. In fact, the postpartum option has a whole list of Vitamin B types that this one doesn't have.
What Women Say About Nutrafol Womens Balance
In reading many Nutrafol reviews on this product and others, I've found that women tend to write longer reviews. Though women don't always do this, it makes looking through the reviews that much more informative.
That said, lots of reviews you can read really aren't at all helpful. By this, I refer to the one-star reviews that say they got a damaged bottle or some other such problem. Those reviews don't say a word as to if Nutrafol worked for their hair thinning or not.
The same is true of the five-star reviews that say they just got their supplement or just started using it and haven't had the time to see any results yet. So, why are they giving it a five-star review? That, I don't understand.
It takes a lot of looking through reviews to find ones that actually have information to them. However, doing so can help you find nice nuggets of information about Nutrafol. By nuggets, I refer to pieces of information that are unique, that tell you in detail what to expect, or that share something that Nutrafol doesn't say – at least, not outright.
To find both good and bad pieces of information like these, it is necessary to look at both the five and one-star reviews. So, we'll start with the former and then move on to the latter.
The Good Things About Nutrafol Womens Balance
The good news is most of the reviews fall in the five-star range for this product, which is a great sign. There are plenty of long ones with lots of details to them as well. One such long one was by a 70-year-old woman who was having thinning hair due to a thyroid autoimmune condition.
Her hair was shedding badly, and she started noticing better hair growth in just six weeks. She also noted that her nails were stronger and less brittle. And that review is just one of the many.
Slightly more interesting are ones like these:


In just these two examples, this Nutrafol supplement helps with acne, hormones, and other things besides healthy hair growth. Those are really the type of reviews you are probably most interested in reading.
Another that was too long to add here tells the story of a woman who lost a lot of her hair due to surgery and medications. She had tried other things, including biotin, but only got results with Nutrafol, which gave her better nail growth and hair growth.
Yet another tells about a woman who had ovarian cancer and had to go through chemo and a lot of other things. Her hair refused to grow back properly, shedding every few months until she started taking Nutrafol.
Though long, my favorite review that I saw was this one from a woman who had a thyroid condition:

All in all, Nutrafol Womens Balance can apparently be helpful for overall health, and it can also help your hair growth, according to women who have used it.
The Bad Things About Nutrafol Womens Balance
By far, the most Nutrafol reviews about this product that are negative simply say it doesn't work. A hair loss product working is hardly anything very serious. Though buying a product that doesn't work is something that costs you money, it is a fairly common problem.
Still, Nutrafol not working is infinitely preferable to it giving people side effects, which is what many other hair loss treatments have in their one-star reviews. Aside from a lack of working, a handful of reviews say that it caused more hair loss, which is certainly something that is more serious.
A few also protest about how much biotin is in it, stating that it messed up their lab results. To be fair, Nutrafol does warn about this being a possibility in the FAQ section. However, other sellers don't always state this warning.
So, in short, most of the negative Nutrafol reviews aren't the most helpful. And that is aside from the one or two cases that state they had recently started using the product and hadn't seen any results yet. Those, as well as the reviews stating that their Nutrafol arrived damaged or opened already, are not very helpful.
However, there are reviews that actually are unique instead of carbon copies of each other. Here are some examples:



While the stomach upset is something Nutrafol does say is a possibility, the other side effects mentioned aren't warned about. What's more, scrolling through enough reviews shows that there are the rare other people who have these same side effects.
Final Thoughts
All in all, this Nutrafol core hair treatment is something that potentially improves hair growth. As far as supplements for thinning hair, Nutrafol is certainly one of the more popular options. I wouldn't say Nutrafol has the best products out there, and its price is a bit high, but it is certainly worth considering.
Older women with thinning hair, in particular, should consider this product. It is quite rare for a hair growth supplement to specifically cater to a woman's needs at this stage in her life. Normal supplements that women take for thinning hair don't always work for women going through menopause.
So, if your menopause is giving you a hard time and causing hair thinning, you should try Nutrafol Womens Balance. Make sure to give this supplement plenty of time to work, and then also leave a comment about this Nutrafol supplement to let me know your thoughts about it!