Vison
You Can Teach an Old Drug New Tricks
Previously Approved Drug Shows Promise for Dry Age-Related Macular Degeneration (AMD)
Getting FDA approval for new treatments can take years or even decades. But what about repurposing drugs that have already been approved for other diseases? That's precisely the question DEF-supported researchers are asking about a new treatment for dry age-related macular degeneration (AMD) and other aging diseases, including Alzheimer's and Parkinson's.
Six years ago, DEF Research Director Dr. Cristina Kenney began collaborating with Parkinson's specialist Dr. Howard Federoff of the Department of Neurology at UC Irvine. DEF-supported researchers had previously shown that damaged mitochondria are a significant factor in accelerating cell death in AMD, and Kenney developed a cybrid mitochondria model to study AMD. Federoff had set up a screening system to look at drugs previously approved by the FDA that might improve the health of mitochondria, whose demise also contribute to Parkinson's and Alzheimer's. Of more than a thousand drugs screened, he identified 13 that could rejuvenate mitochondria. Kenney's cell-culture models and Federoff's system were a match made in research heaven.
Together, the researchers homed in on one drug, which Federoff named PU-91, because it was the 91st drug he'd tested. "When we added PU-91 to our AMD cybrids, the cells lived longer, they functioned better   the damage to the mitochondria was decreased and it really improved the health of the mitochondria," Kenney says. "PU-91 is a drug called fenofibrate, which has been used for years to treat high cholesterol. When this drug is modified slightly, it helps sluggish mitochondria regain their health. We're taking a drug that has been used for many years with FDA approval, and we're repurposing it for a new target and new types of diseases."
Benefits of Repurposing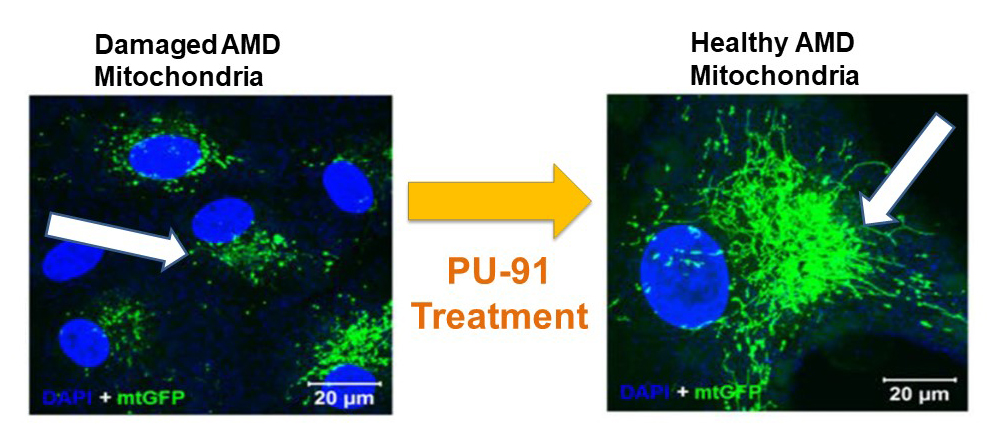 Tremendous savings of time and money are to be had by repurposing a known drug rather than starting with a drug people have never used before. Perhaps most importantly, because it's been used for so many years in patients, the known drug has a proven safety track record. PU-91 has an additional advantage in that it is taken orally. While there is currently one type of treatment for wet AMD — an injection — there is no treatment at all for the dry form of AMD. An oral treatment for dry AMD is a game-changer.
The research is going so well that a company has been formed specifically to bring this drug to market for dry AMD. "As we become more successful, this type of drug can also be used for neurodegenerative diseases that have damaged mitochondria, such as Parkinson's disease and Alzheimer's disease," Kenney says. "Potentially, it might even be used for something, such as glaucoma, that causes cell death of the retina ganglion cells in the eye. There are a lot of potential uses for it."
Bench to Bedside
DEF currently is supporting ongoing studies to optimize PU-91's formulations for maximum effectiveness in patients with AMD. "It's exciting, because this is the goal for translational researchers," Kenney says. "Take what you're doing at the bench and bring it to the bedside."
If you would like to support our sight saving research click here, DONATE NOW