Vison
Beware of Costume Contacts this Halloween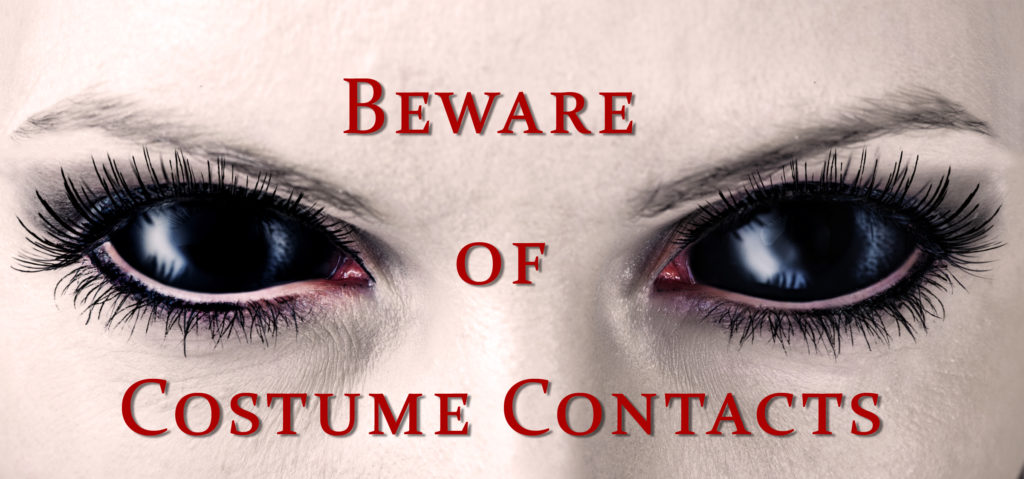 Costume Contact Lenses such as cat eyes or zombie may make your Halloween costume a bit more frightful although wearing those lenses without a prescription can be more terrifying, as it could result in vision loss or even blindness.
You can buy contact lenses, including decorative contact lenses, from your eye doctor or on the Internet.  It's very important that you only buy contact lenses from a company that sells FDA-cleared or approved contact lenses and requires you to provide a prescription.  Even if you don't wear corrective lenses you still need to get fitted properly.
Remember — Buying contact lenses without a prescription is dangerous!
Right now there are a lot of products that you can buy without a prescription but they may not be safe or legal.
You should NEVER buy lenses from:
street vendors
salons or beauty supply stores
boutiques
flea markets
novelty stores
Halloween stores
convenience stores
beach shops
internet sites that do not require a prescription
Know the Risks –
Wearing costume contact lenses can be risky, just like the contact lenses that correct your vision. Wearing any kind of contact lenses, including costume lenses, can cause serious damage to your eyes if the lenses are obtained without a prescription or not used correctly.
These risks include:
A cut or scratch on the top layer of your eyeball (Corneal Abrasion)
Allergic reactions like itchy, watery red eyes
Decreased vision
Infection
Blindness
Signs of possible eye infection:
Redness
Pain in the eye(s) that doesn't go away after a short period of time
Decreased vision
If you have any of these signs, you need to see a licensed eye doctor (optometrist or ophthalmologist) right away!  An eye infection could become serious and cause you to become blind if it is not treated.
This Halloween season DEF wants to remind you of the importance of eye safety and to make sure to take the proper steps in ensuring the proper contact lenses.