Vison
5 Most Common Eye Problems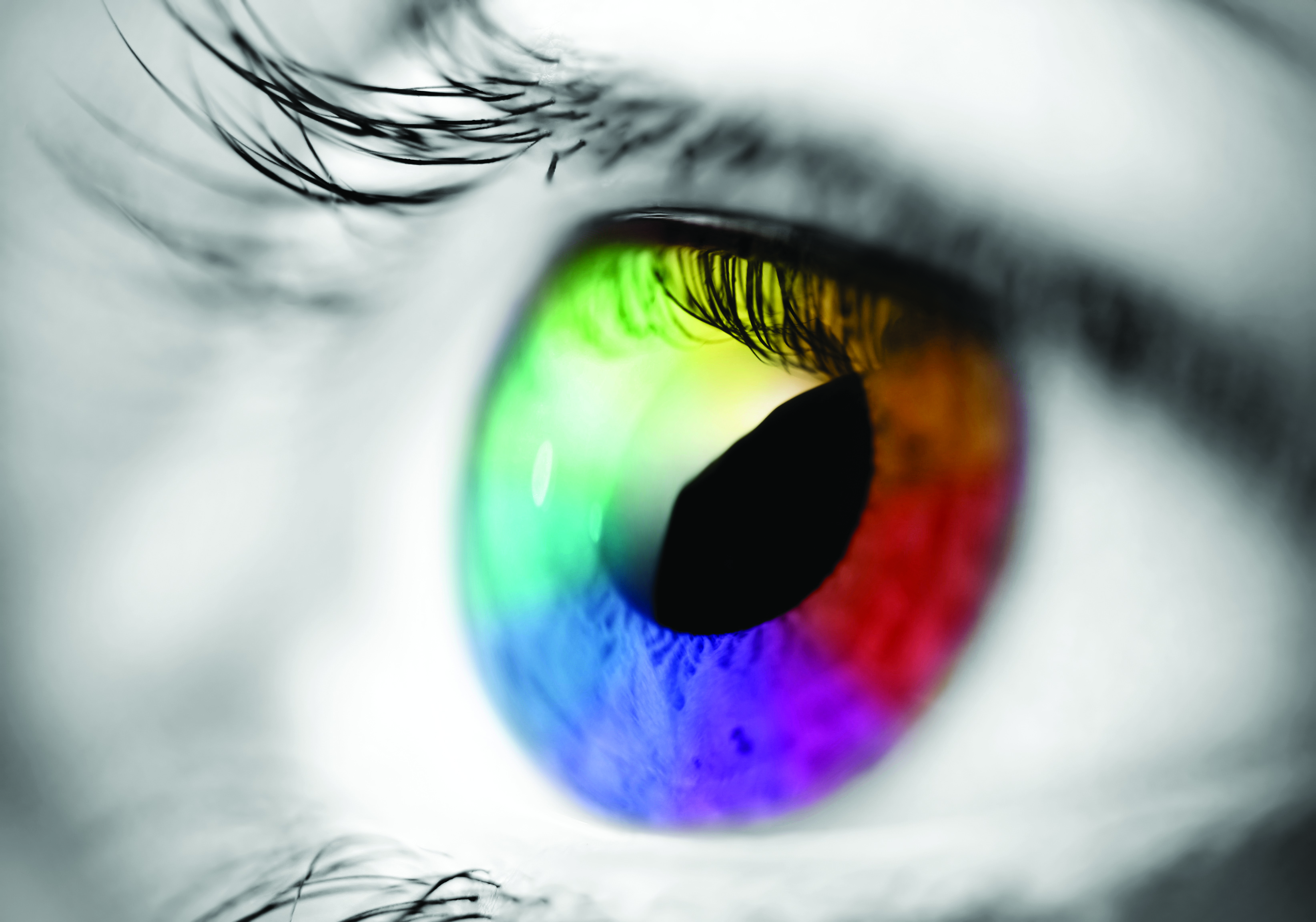 Most people have eye problems at one time or another. Some are minor and will go away on their own, or are easy to treat at home. Others need a specialist's care. Some eye issues come with age while others may be a serious condition.
If you've never had a problem with your eyes it can be easy to forget how important it is to take care of them. The good news is that it's never too late to start taking care of your eye health. Regular eye health appointments and eye exams can lead to early diagnosis. This is key to correcting or slowing most eye conditions.  Always see your eye care professional if your vision problem lasts for more than a few days or worsens.
The five most common eye conditions leading to loss of vision or blindness are:
Dry Eye
Cataracts
Diabetic retinopathy
Glaucoma
Age-related macular degeneration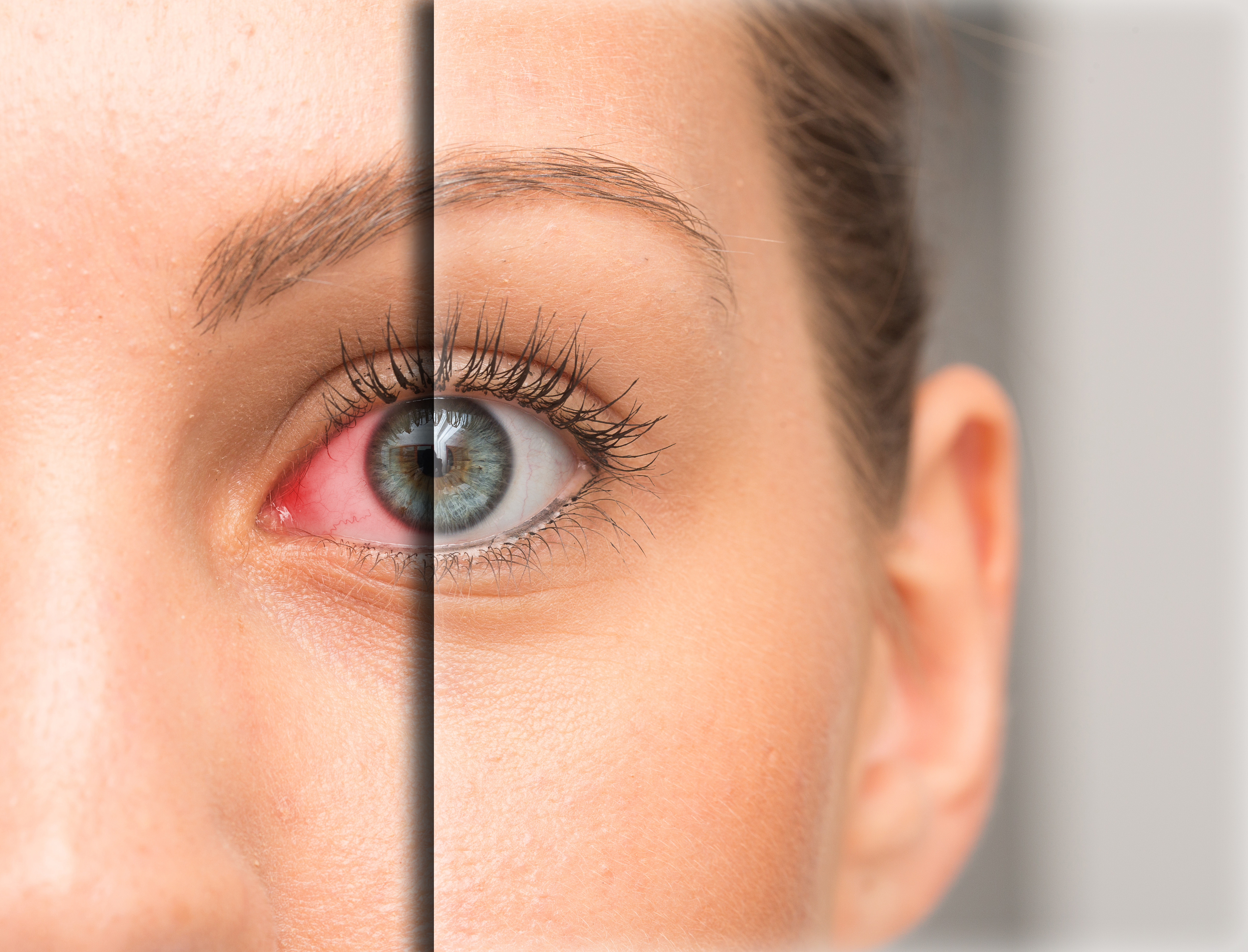 Dry eye is a common condition that occurs when your tears aren't able to provide adequate lubrication for your eyes. Tears can be inadequate for many reasons. For example, dry eyes may occur if you don't produce enough tears or if you produce poor-quality tears. Dry eyes can also feel very uncomfortable.
Signs and symptoms, which usually affect both eyes, may include:
A stinging, burning or scratchy sensation in your eyes
Stringy mucus in or around your eyes
Sensitivity to light
Eye redness
A sensation of having something in your eyes
Difficulty wearing contact lenses
Difficulty with nighttime driving
Watery eyes, which is the body's response to the irritation of dry eyes
Blurred vision or eye fatigue
A cataract is a clouding of the lens in the eye that typically will affect your vision. Most cataracts are related to aging. People who have cataracts often have other vision problems in one or both eyes that accompany the cataract, such as nearsightedness (myopia), farsightedness (hyperopia), astigmatism (blurred vision), and/or presbyopia (reading problems).
The lens lies behind the iris and the pupil. It works much like a camera lens. It focuses light onto the retina at the back of the eye, where an image is recorded and sent to the brain. The lens also adjusts the eye's focus, letting us see things clearly both up close and far away. The lens is made of mostly water and protein. The protein is arranged in a precise way that normally keeps the lens clear and lets light pass through it.
But as we age, some of the protein may clump together and start to cloud the lens. This is a cataract. Over time, the cataract may grow larger or more dense making it harder to see. There are no known medications or diets to prevent age-related cataract so currently the only treatment is cataract surgery. Consult an ophthalmologist for a cataract surgery evaluation.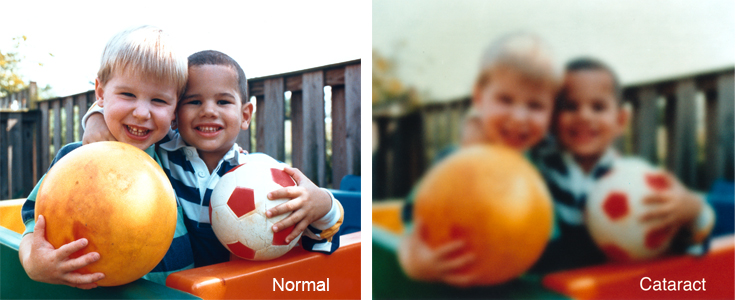 Diabetic retinopathy is the most common diabetic eye disease and a leading cause of blindness in American adults caused by changes in the blood vessels of the retina.
We know that:
Currently more than 4 million Americans aged 40 and older have some form of diabetic retinopathy
There is a higher prevalence in African Americans, Hispanics/Latinos, American Indians, and Alaska Natives aged 20 and older
Preventive measures help and it is highly treatable.
In some people with diabetic retinopathy, blood vessels may swell and leak fluid or blood inside the eye. In other people, abnormal new blood vessels grow on the surface of the retina. The retina is the light-sensitive tissue at the back of the eye. A healthy retina is necessary for good vision.
Two important tips for diabetic retinopathy prevention: 1) Diabetic retinopathy is worse in patients with poor blood sugar control, so follow your diet and medication prescriptions carefully. 2) Get a dilated eye exam from your ophthalmologist every year for early diagnosis and treatment.

Glaucoma is a disease that causes damage to the major nerve of the eye called the optic nerve, a part of the central nervous system that carries visual information from the eye to the brain.
The eye experiences a gradual increase of intraocular pressure (IOP) due to an imbalance of the fluid produced in the eye and the amount of fluid drained. Over time, elevated IOP can cause vision loss. The most common form of glaucoma is primary open angle glaucoma which affects about 3 million Americans. However, there are other types including narrow angle, congenital, normal tension, and secondary glaucoma.
At age 50 about 2% of the US population has glaucoma, increasing to 4% by age 70 and 10% for those over age 80. While anyone can develop glaucoma, there are some risk factors that increase the likelihood of having this disease, which include:
A family history of glaucoma
Mexican American heritage over the age of 60
African American heritage over age 40.
Often people with glaucoma are unaware they have the disease because there are no symptoms, so it is recommended that you have a dilated eye exam every two years. With early diagnosis there are treatments that can often protect against irreversible damage to the optic nerve that can lead to serious vision loss. Glaucoma can be treated with eye medications, lasers, and various surgical procedures. However, if glaucoma is not controlled can cause debilitating loss of vision.

Age-Related Macular degeneration (AMD) is a progressive eye condition affecting as many as 15 million Americans. The disease attacks the macula of the eye, where our sharpest central vision occurs, affecting reading, driving, identifying faces, watching television, safely navigating stairs and performing other daily tasks. Although it rarely results in complete blindness, it robs the individual of all but the outermost, peripheral vision, leaving only dim images or black holes at the center of vision.
As the disease progresses color vision and central vision sharpness deteriorates. the gradual destruction of light sensitive cells continues until large areas are totally gone. Peripheral vision remains, but the ability to clearly see straight ahead and to see color is lost.
For many people, the first sign of macular degeneration is something they notice themselves. Straight lines like doorways or telephone wires may appear wavy or disconnected. When you look at a person, their face may be blurred while the rest of them is in focus. Lines of print may be blurred in the center or the lines may be crooked. For some people, there is a sudden blurring or loss of sight in the center of vision. For any sudden change in vision, you should contact your ophthalmologist immediately.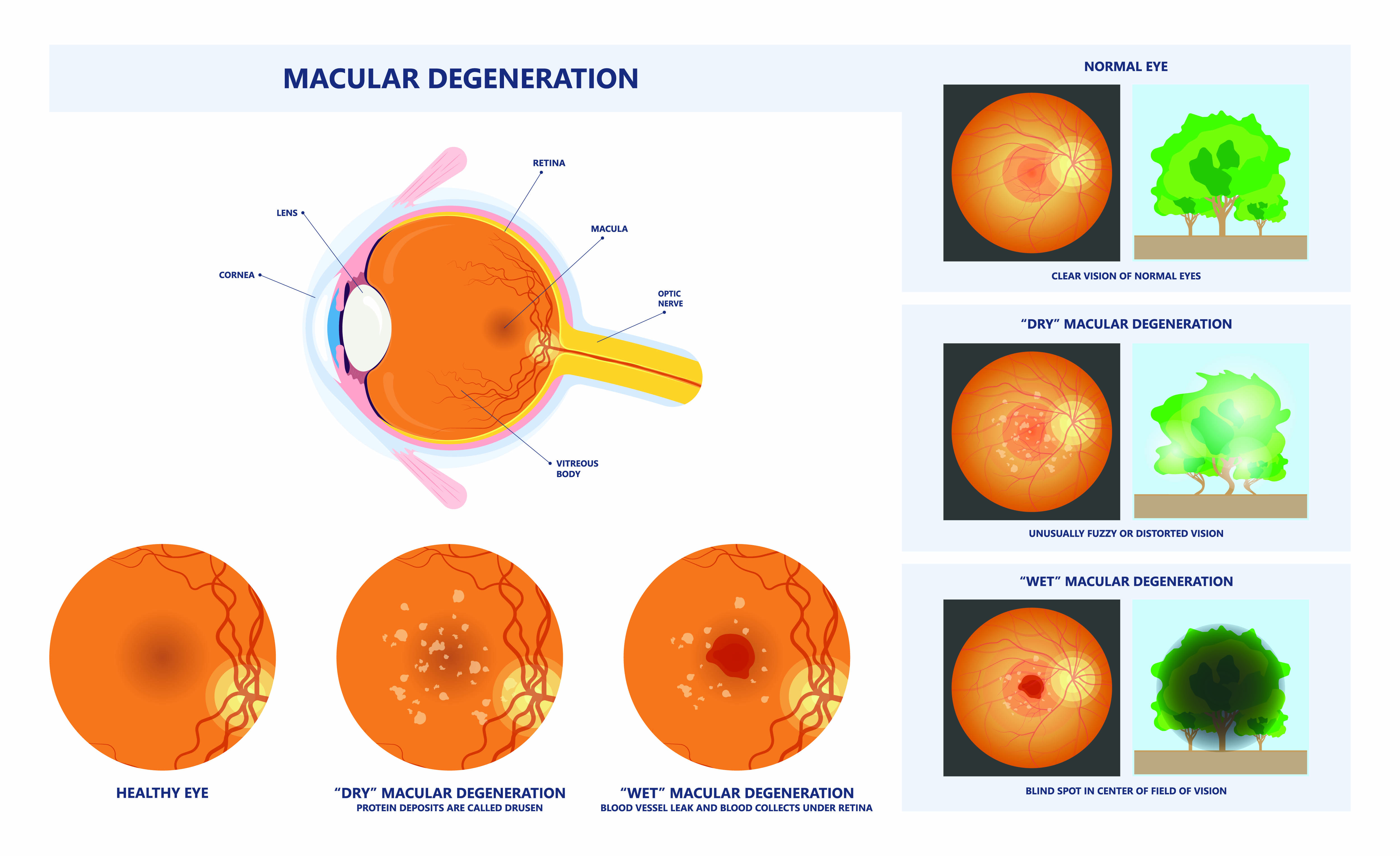 AMD can be classified into Early AMD and Late AMD. In Early AMD, a patient may have drusen, which are small protein/lipid deposits underneath the retina, and they can still have good vision. In Late AMD, there are two common forms that occur—wet (neovascular AMD) and dry (atrophic AMD). The wet AMD has abnormal blood vessels beneath the retina that leak blood which can greatly distort the vision and cause a central blind spot.  Approximately 10-15% of patients have the wet form. Fortunately, there are treatments for wet AMD.   To date, the dry, atrophic form of AMD does not have any treatments available. In dry AMD, the retinal pigment epithelial (RPE) cells, which are the posterior-most layer of cells in the retina, undergo extensive degeneration that causes the overlying retina to lose function.  We do not know what causes the RPE cells to become unhealthy and start to die.  Many research laboratories worldwide are studying the causes of dry AMD and how to treat it.
Help keep your eyes healthy for years to come with regular eye exams, and treatment at the first sign of a problem.