Hair
Viviscal Gorgeous Growth Densifying Shampoo 2022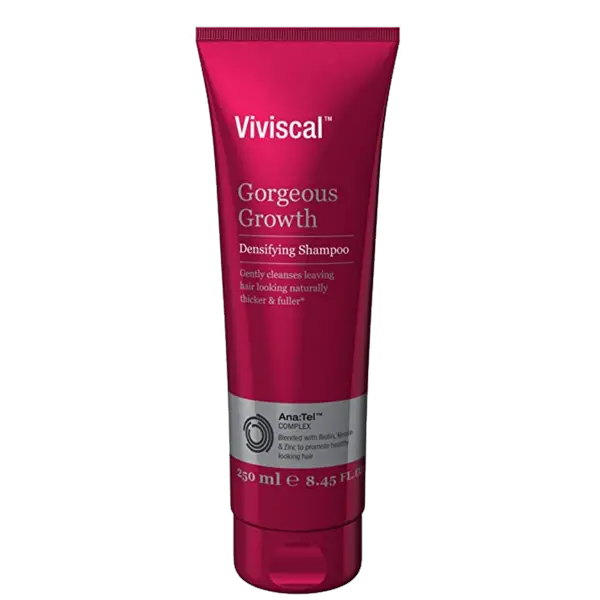 Viviscal has a few different products for hair growth, one of which is their densifying shampoo. Having a shampoo, conditioner, elixir, and a hair growth supplement is very convenient. 
When hair growth products are all in the same line of products like this, it often means that they complement each other. This makes for even better hair care, as the different products make even more of an impact if you have hair loss.
Many shampoos supposedly help with healthy hair growth, but only some of these can help with extreme hair loss. Those with hair loss have no reason to go with a shampoo that would help only moderately when another shampoo, one specifically made for combating hair loss, could do better.
Also, though a shampoo and conditioner set is a great idea, not everyone likes using a conditioner. So, can the Viviscal Densifying Shampoo help you get thicker looking hair? Is it worth the price? And what is in it? Let's start with the last question first, as knowing what is in any hair loss product is a vital part of knowing if it might work for you.
What Is In The Gorgeous Growth Densifying Shampoo
The most vital things to know about any shampoo is what its key ingredients are and how these ingredients work. First, there is water to keep it liquid, then Ammonium Lauryl Sulfate and Cocamidopropyl Betaine which are both types of detergent.
Next, glycerin is not an ingredient everyone wants, but it can be soothing to the skin. Myristamide DIPA is a strange one, but is actually an extract of aloe vera. Citric Acid is a disinfectant, with Sodium Benzoate being a preservative.
Panthenol is what is called a provitamin of Vitamin B5 and is the seventh ingredient. Then this Viviscal shampoo has fragrance, which it doesn't specify is synthetic or botanical fragrance. Hydroxycitronellal enhances whatever smell this shampoo uses.
Keratin is a great ingredient for any type of hair growth product, helping form the proteins in your hair follicles. This Viviscal shampoo also has biotin, zinc, potassium, and a couple of other beneficial things.
Hydroxypropyl Guar Hydroxypropyltrimonium Chloride is quite a mouthful, but it helps reduce static and tangles. Meanwhile, the Polyquaternium-7 and Methoxy PEG/PPG-7/3 Aminopropyl Dimethicone are both chemicals that make your hair feel softer.
The Disodium EDTA is slightly more useful, helping bind up iron and calcium to your hair to make your thin hair thicker. Phenoxyethanol is a formula that works to prevent funguses and bacteria.
Finally, Viviscal has some natural ingredients like lemon peel extract, both orange peel and bitter orange peel extract, and mandarin orange fruit extract. Limonene, the last ingredient, is also something derived from citrus peels.
There is also camphor bark oil, coriander seed oil, eucalyptus leaf oil, lavender oil, nutmeg oil, clary sage extract, patchouli oil, pea sprouts extract, and evergreen fruit oil. This mix of ingredients, unfortunately does not have many clinically tested ingredients for hair growth in it.
That said biotin and keratin have both been studied scientifically and have been found to help with hair loss. Here are some other hair loss treatments with biotin in them.
The Advantages Of The Viviscal Gorgeous Growth Densifying Shampoo
The Viviscal gorgeous growth range of products is widely publicized and generally considered to have good customer reviews for basically any hair type. Viviscal's shampoo is also from a fairly good company and has worked for people with hair loss.
By saying something is a 'good' company, that is a company that has been around long enough to prove their worth, has a good warranty and customer care, has truly unique products, and a few other things. Though Viviscal doesn't get five stars across everything, it still qualifies as a good company.
Also, this shampoo has a good price tag attached to it, being about average here. Citrus is very cleansing and very good at preventing bacteria growth, though there may be one or two more citrus ingredients than what is actually needed.
Meanwhile, both biotin and keratin are amazing for your hair follicles. The zinc and potassium may not be as well-known for giving healthy looking hair growth, but can still help somewhat.
However, the only other Viviscal advantage is that they have a warranty of 90 days no matter the reason you don't like their product. There is no specialized compound trademarked only by them. There is also almost none of the deservedly-popular ingredients that are clinically proven to assist your thinning hair such as saw palmetto, caffeine, or Vitamin E.
Most importantly, thousands of reviews on this shampoo, both on Amazon and other places, say that Viviscal shampoo helped their hair growth. As that assistance is the whole point of using this shampoo, that may be the only thing you care about.
The Disadvantages Of The Viviscal Gorgeous Growth Densifying Shampoo
Just by looking at the ingredients of the Viviscal shampoo, you can probably already see one or two disadvantages. The Ammonium Lauryl Sulfate may clean your hair but is also prone to causing allergic reactions and an itchy scalp.
Meanwhile, the Cocamidopropyl Betaine, though less likely to cause a reaction, is still a compound some are allergic to. Citric Acid also has some potential negative reactions as well. The Sodium Chloride might be great for those with oily hair.
Unfortunately, those with dry hair may find their hair will dry out even more with this shampoo. In short, you aren't likely to recognize most of the top ingredients in the Viviscal shampoo. The ingredients that are natural in this shampoo are largely comprised of citrus.
Sure, citrus has some good qualities, but it is also very acidic. This dries hair out (on top of the salt) and can irritate your scalp. Sure, there are a few oils but, as mentioned, these aren't clinically tested ingredients.
And, as they don't say what, exactly, their fragrance is, there is no telling what side effects that ingredient has. Then, an ingredient whose sole purpose is fragrance enhancement is hardly necessary. You aren't using Viviscal shampoo for its refreshing scent; you want it to help your thinning hair!
The ingredients are barely average, and biotin and keratin are almost the only ones specifically for hair growth. Though softer hair is nice, the compounds used for this only qualify as being natural due to being derived from natural ingredients.
A few users of this shampoo said that the acidity of it stripped their hair color. Others had increased hair fall or the irritated scalp that you might expect from some of these ingredients.
Final Thoughts
All in all, Viviscal's Densifying Shampoo is probably more than a little overhyped. True, it is not as laden with chemicals as many products on the shelf, which is a good thing. It also has the specially formulated ingredients for hair growth.
Perhaps this Viviscal shampoo didn't feel the need to put any DHT blockers in it because it is for women and not men. Still, the lack of vitamins or many plants other than citrus ones seems like a bit of a failure.
Although Viviscal might be good for your budget, it is not really a hair growth shampoo that I'd recommend. Then again, you might have a different opinion and, if so, feel free to say so.